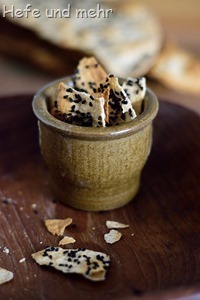 It's been ten years today since I clicked on the "publish" button for the first time. The Blog – the first bread baking blog written in German – flourish ever since. My wee little  recipe archive turned into a huge collection with more than 800 recipes turning this time. And so it's time to celebrate!
When coming together to celebrate I like to serve a little something for nibbling. The Idea for this crackers I got at our last vacations on a farmers market. A baker sold bags of "addictive makers" –  a kind of paper thin crackers. The name was tempting me and so we bought a bag to satisfy my curiosity. But the name was greater then the reality. They tasted ok… and my brain started to work.
The inspiration for my cracker variant  are Lavash and Pan Carasau. I add sourdough to the mixture for a more complex flavour, while harrisa and nigella seeds add an exotic touch. And so I get finally my perfect cracker…
Lecker-Cracker
Dough
150g Whole wheat flour
125g Flour Type 550
100g sourdough (from the fridge or left over after feeding)
95g Water
30g Olive oil
5g Harissa
6g Salt
Topping
Knead the dough for 10 min.
Let it rest for 1 hour.
Preheat the oven to 300°C.
Divide the dough into 10 portions.Roll two Portions as thin as possible. Place on a baking tray, brush with water and top with nigella.
Bake for about 4 min until golden and crisp.
Let it cool on a cookie wire while baking the remaining cracker. After cooling break into smaller pieces and store them in an airtight container.