Some (Kitchen) Facts about me
I like to bake when I feel stressed!
Yeast is not only essential part of my work in kitchen, but in my dayly lab work as well. But yeast in lab is not so easy to handle for me as yeast in kitchen.
Thats why this blog is named "Hefe und mehr". "Hefe und mehr" means yeast and more.
I don't eat cucumber. That is food for guniea pigs!
Our guniea pigs have the same opinion!
I am vegetarian.
I love chocolate!
I love kitchen gadgets.  When we moved into our new flat most of the boxes where filled either with kitchen stuff or with books.
I use mild wheat sourdough only. Sour sourdough and rye give me stomach ache.
I bake bread with really less yeast and a lot of time. A good bread needs time!
Most products in our kitchen are organical. Especially grains and flours, yeast, milk and dairy, eggs, vegetables and fruits.
I try to buy sesional and regional. I like it when I can see the change of season in my dishes, too. There will be no strawberries in December in our house!
When buying chocolate, cacao and coffee, I do not only care for organical farming but even more important for me is fair trade! I think that we are responsible for the people who make our food as well as for nature and that we have to pay enough that these people can live a good life!
"Hefe und mehr" in the Press
Brotmagazin, October 2014: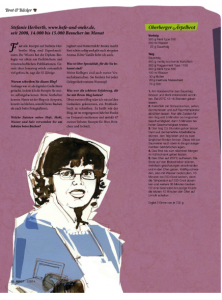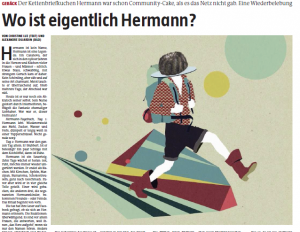 Welt am Sonntag, June 2016
"Ö -Mag", 2/2016 – Recipes "Regional Breads"
"Oberbergische Volkszeitung" and "Kölner Stadtanzeiger", Oktober 2016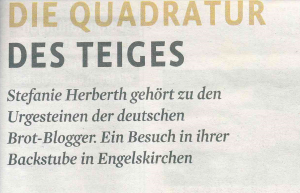 Sweet Dreams, January 2017: