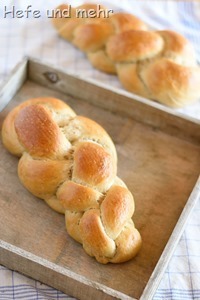 It was such a stormy Sunday! The sun was glimpsing through the clouds now and then, but the whole time trees were bending under the power of wind. It was the right weekend to stay home and bake bread.
And so I bake a delicious braid. But as we have a tiny bit of stormy days in our life, too, with a lot of appointments eating up time, there was no time for a preferment. And as I wasn't baking in my own kitchen, I had no kitchen machine to take up kneading either. These were the facts I had to build my recipe around.
At the end, I opted for buttermilk and a long, cold proof to enhance flavour. And I decided to bake the Braid in Swiss Style, which means: no sugar in the dough. Without sugar, it is much easier to knead the dough to middle gluten development as sugar tends to inhibit gluten development.
My plan worked as well as I could hope for, and the next day I started my morning with some freshly baked bread. Is there a better start in a chaotic week?