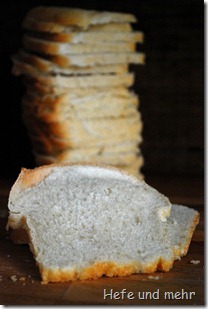 I don't like Sandwich bread so much – normally. Especially I am not a big friend of toasting sandwich bread – but thats the kind of bread that my boyfrind love and so I bake this kind of bread, too. And I like the challenge to create a soft and fluffy light bread.
To archive a regular crumb which you can tear away in long fibres you have to knead the dough intensively and degas the dough very well before forming a loaf.
This tricks I used for sandwich breads before, but when I saw the extra soft Sandwich bread of TXFarmer at Yeastspotting I note all the Tips and Hints in Handling the dough. The Sandwich bread of TXFarmer contains egg white instead of whole eggs. That's add extra protein to the dough which makes the crumb more stable without changing the look or taste of the bread like adding whole egg or egg yolk would do.
For a very even crumb the dough is flatted, rolled into a log and flatted again before rolling it into a loaf. That press all of the air bubbles out of the dough.
The resulting bread is great. It is very soft and fluffy, and it get a nice brown colour when toasted, but without getting dry. Because of the two preferments it tastes delicious, too. The taste reminds me of mild yoghurt with a hint of acid but not so sour that it overpowers the other aromas.I have to say that I like it very much and baked it already twice.
Sandwich bread with two preferments
yields two breads of 1 kg each
Sourdough
150g water
150g flour Type 550
15g Starter
90g flour Type 550
65g water
1g fresh yeast
2g Salt
Water roux
60 g flour Type 550
300g water
Dough
800g flour type 550
200g milk
120g egg white (of 3 big eggs)
50g sugar
100g Butter
20g Salt
5g fresh yeast
Mix all ingredients for the sourdough and ferment overnight (12 to 16 hours) on a warm place (about 25°C).
Mix all ingredients for the Pâte fermentée and knead for 3 min, then ferment it for 1 hour at room temperature. Then put the dough into the fridge for  at least 12 hours.
For the water roux whisk water and flour until lump free, then heat it up to 65°C (needs about 3 min) while whisking. Fill the water roux in a bowl, cover its surface with cling foil and let it cool down to room temperature.
Dissolve the yeast in the milk, add flour, egg white, water roux, Pâte fermentée and sourdough and knead 5 min at slowest speed, then around 11 min on fast speed until complete gluten development. Now add sugar and butter and knead for about 2 min until butter and sugar are complete incooperated.
Ferment for 3 hours.
Degase the dough and 8 parts of about 250g each.Form them to balls and let them Rest for 20 min. Roll each Ball into a long thin oval. Fold the long sides into the middle to form an rectangle. From the short roll tightly  to a log. Now roll it again along the seam to an long, thin oval, fold the long sides into the middle and roll again tightly to a log. The log should be as long as the baking pan is wide. Place four logs in a buttered pan (30 cm long) proof for 6 hour.
Bake with steam at 175°C for about 50min.