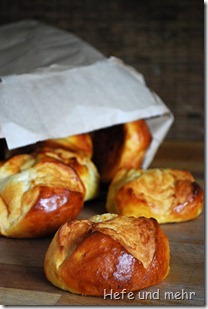 The Theme of this month' bread baking day is "Bread with Curd". You can find bread and Pastry made with curd very often on our table and I bake already two recipes for BBD with curd.
Because I like sweet buns ( they are called "Weckchen" in cologne") very much I decided to bake some "Quark-Weckchen" (Curd buns) for bread baking day.
Curd makes bread moist and adds a subtle tartness to the dough. To prevent a to sour dough I decided to use a poolish as preferment. I kneaded the dough very long to make the crumb fluffy and regular and because of butter and egg the crust stays soft.
I do not use so much sugar for this buns, so if you like a more sweet bun like Pani di cena you should increase the amount of sugar.
The buns are everything that I love for a quiet breakfast: Soft, slightly sweet and slightly sour. Prefect for sunday mornings!