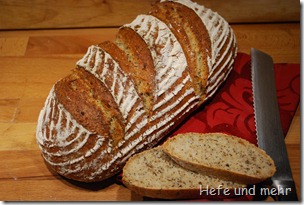 IDania from El Aroma de Idania choose a wonderful theme for Bread Baking Day: "Mixed Bread" – Baking bread with two or more different flours. That's my theme for sure because I love to use different kinds of grains in breads. So it was easy for me to develop  a recipe using wheat flour, spelt flour and millet flour. I never used milled before so Bread Baking Day seemed to be a great change to bake a bread with it. Because millet has no gluten I use a small amount millet and added spelt and white wheat flour to the dough, too. Because I was thinking of a light and tasty bread with a soft crumb I added also some curd and toasted seeds.
The bread turned out fine: It has a nice crumb under a thin crust, filled with the flavours of toasted seeds. I need just some butter and fleur de sel with this bread to underline its flavour and nothing else.
Curdbread with Wheat, Spelt and Millet
yield 2 breads of 1100g each
Poolish:
250g flour (Type 550)
250g water
1g fresh yeast
Dough:
500g flour (Type 550)
200g millet, freshly ground
300g spelt,freshly ground
10g fresh yeast
250g curd
475g water
25g salt
Seeds:
150g sesame
50g flax seeds
50g poppy seeds
Mix water, flour and yeast for the poolish and ferment it overnight (12 to 16 hours).
Toast the seeds and set aside to cool down.
The next mornig: Mix all incredients  for the dough and knead it for about 8 min, add the toasted seeds and mix in low speed until it is incorporated.
Ferment the dough for 1,5 hours.
Shape the dough into two oval loaves and place them, seam-side-up, in a well-floured, linen lined baskets or glass bowls and proof for 1 hour.
Slash the loaf directly before baking.
Bake for 40min at 250°C with steam on a hot stone.