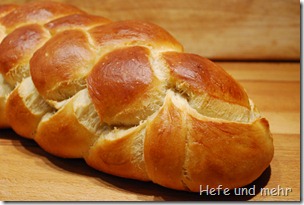 Wenn I bake a sweet Zopf for breakfast on sunday, I use normally milk in the dough. But these weekend I needed a dairy free bread, so I had to modify my recipe. I use these Challah recipe and replace milk and butter with water and oil and increase the amount of egg while I degrease the sugar amount.
The dough was soft but very easy to work with, so making a six stranded braid was easy. Braiding a six strand gets easier every time I do it. I still have to murmur the direction to me (second one left to the far right, left to the middle …) but I am getting faster.
The resulting bread has a slight sweet taste, a soft crust and a fluffy crumb. If I did not bake it by my own it would be very difficult to convince me, that it is dairy free! I think these recipe is a keeper.
Challah
Pâte fermentée:

160 g flour (Type 550)
90 g water
1g fresh yeast
2g salt
Dough:
500 g flour (Type 550)
110 g water
der whole pâte fermente
150 g egg
80g Sunflower seed oil
60 g sugar
Glazing

Mix all ingredients for the Pâte fermentée and proof it for 1 hour at room temperature. Then put the dough into the fridge for 12 hours.
Dissolve the yeast in water, then knead in the kitchen machine with eggs, oil, salt, flour and Pâte fermentée for 5 min at slow speed.
The knead 7 min at middle speed. Because the sugar inhibits the gluten development, the sugar is added just now. Add always a tablespoon at once and knead in between always for 1 min.
Proof for one hour.
Divide the dough into six strands of 50 cm length and braid it.
Proof for 1 hours.
After proofing brush it with egg, then bake at 180°C for about 35 min with steam.
Wer viele leckere Brote sehen möchte, der sollte bei Susans wöchentlichen Yeastspotting vorbeischauen. Ein Besuch dort bringt immer viele neue Ideen!