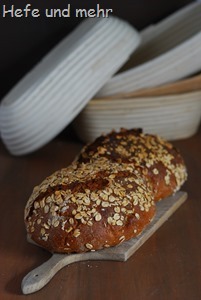 The second bread wich I baked for the "Schwarzmarkt" was a oatmeal bread. My love for oat shines through one or the other recipe and so I made up my mind quite fast that a bread with oats would be a "must have" for the Schwarzmarkt. This time I opted for a rolled oats partly as porridge, and partly roasted. The porridge makes the bread moist and keeps it fresh for a long time, while the roasted oats add flavour and a nice texture to the crumb. The bread is risen by only the sourdough and rye poolish, which makes the flavour deep and complex.
To get four breads into the oven, I decided to bake them as "Twins" which means that I proof two round loaves in one oval proofing basket. The breads fuse while baking on the side they touch each other, but are easily seperated when cooled down.
I like my oat twins very much, with their dark crust and moist crumb, and the slight honey flavour in combination with nutty oats it is harmonize with cheese as well as with honey or jam. A bread, suitable for every meal!