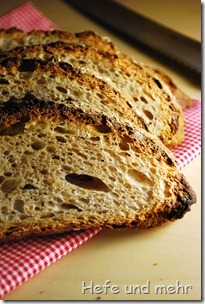 Autumn means for me nuts, especially hazelnuts and walnuts. But I bake already a Potato bread with walnuts, Apple-Hazelnut Bread and Pain aux Levain aux grains mélangés e noisettes. And before everyone (including myself) get bored with so much breads with nuts I decided to bake a bread with cider for BreadBakingDay because Apples are strongly connected with autumn for me, too.
The recipe I created included a small portion rye, just enough for some nice taste but not enough to challenge my stomach. I used some rolled oats and whole wheat flour, together with grounded caraway seeds which gave the bread a very nice taste. And spiced bread belongs to autumn/winter for me, too.
I liked the bread very much, especially with a hearty cheese and homemade mustard.