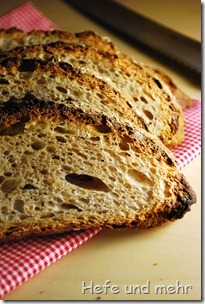 Autumn means for me nuts, especially hazelnuts and walnuts. But I bake already a Potato bread with walnuts, Apple-Hazelnut Bread and Pain aux Levain aux grains mélangés e noisettes. And before everyone (including myself) get bored with so much breads with nuts I decided to bake a bread with cider for BreadBakingDay because Apples are strongly connected with autumn for me, too.
The recipe I created included a small portion rye, just enough for some nice taste but not enough to challenge my stomach. I used some rolled oats and whole wheat flour, together with grounded caraway seeds which gave the bread a very nice taste. And spiced bread belongs to autumn/winter for me, too.
I liked the bread very much, especially with a hearty cheese and homemade mustard.
Three grains bread with Cider
Poolish
250g flour Type 550
250g Water
1g fresh yeast
Dough
all of the Poolish
250g Wheat, freshly milled
100g rye, freshly milled
2g caraway seeds, freshly grounded
100g rolled oats
300g flourType 550
450g Apple Cider
50g Sourdough-Starter (out of the fridge)
20g Salt
10g fresh yeast
Mix the ingredients for the poolish and ferment for 12 hours at room temperature.
Now mix all ingredients except salt and yeast and rest it for 20 min (Autolysis).
Now add yeast and salt and knead 5 min ad the slowest speed and 5 min ad higher speed until medium gluten development then place the dough in a good oiled container and ferment for 2 hours. Give the dough once during this time.
Folding: Flour your countertop and  put the dough on it. Flat the dough carefully to a square. Now fold the right and the left side to the middle, then from button and top, too. You can find a nice tutorial here.
After fermenting divide the dough into two equal parts. Preshape into a bowl. Rest for 45 min. Then form in a bread and place in brotforms seam side down. Proof for 90 min.
In the meantime heat baking stone in the oven to 250°C.
Bake the loaves on the hot stone for about 45 min with steam, until the crust is golden brown.
I send this bread to yeastspotting, Susans weekly showcase of yeast baked good, this week guest hosted at "Hefe und mehr".