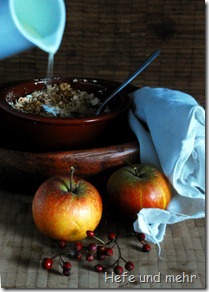 In Germany we had a lot of sun at the end of September to balance the wet and cold summer. The last warm days made the apples on my parents apple tree delicious sweet. But with the begin of October the weather changed to "real" autumn with 10°C as highest temperature, rain and storm.
I was longing for something sweet and warm for dessert to warm me from inside. Something sweet made with the delicious hand picked apples. I longed for the sweedish apple casserole topped with thin-rolled oats. A colleague of mine baked it for her birthday last winter – but forget to give the recipe to me until now.
And so I made the crust like I thought it would work.
And it taste good – who needs a recipe?