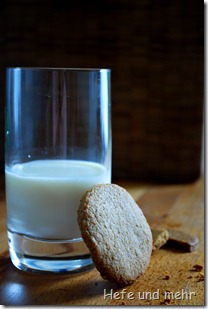 When I have to stay in lab until late in the evening, I need some carbohydrates somewhere at the late afternoon or early evening to refresh myself. One or two cookies are perfect for that, best with some coffee and a chat with my colleagues.
My favourite cookies are wholegrain, with a lot of oats inside. I love this nutty flavour of oat cookies. When I saw the recipe for digestive biscuits on Swirl & Scramble I knew I had to test it!
I made some minor changes due to my pantry: I used freshly ground spelt and oat, replace brown sugar with raw sugar and add some homemade vanilla sugar. I also add a pinch of salt as I always do when cooking something sweet.
The cookies turned out perfect. So good that I bake the double amount!
Spelt-Oat-Whole grain cookies
200g oat, freshly ground
200g spelt, freshly ground
200g butter, soft
100g raw sugar
20g vanilla sugar (homemade)
1 pinch salt
4 tablespoons milk (maybe a little bit more)
Knead oat and spelt flour with sugar, salt and butter until a crumbly dough has formed. Now add milk until the dough is homogenous. Refrigerate for 15 min.
Spread to 4 mm thickness and cut out circles of 6 cm diameter.
Place on a paper lined baking tray and bake at 180°C for 15 min.