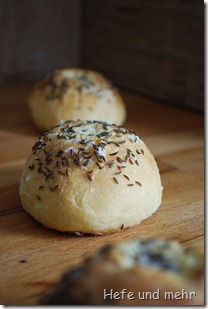 We had a lot of snow last weekend, so we decided that it would be better to stay at home. I used the time to sort old recipes and while sorting I found a recipe for Kümmelkuckeln I liked very much some years ago. But I know more about bread baking now and so I decided I have to change the recipe. I reduced the yeast amount drasticly and increase the amount of milk. The rolls are delicious, soft, a little bit sweet, a little bit salty.
Kümmelkuckeln
yield 10 rolls
dough
500g flour Type 550
350g milk
50g soft butter
20g sugar
10g salt
5g fresh yeast
topping
40g cold butter, cut into small pieces of about 4g
caraway seeds
coarse salt
Mix flour and 325 g milj untill well combined. Then rest the mixture for 30 min (Autolysis). During autolysis the proteins in the flour get hydrated, so that the gluten develops faster when we started kneading.
After Autolysis: Disolve yeast in 25g milk, then add it to the flour-milk-mixture, also add butter, salt and sugar. Stir untill a sticky dough has formed. Now place the dough on the counter and knead untill the dough has a soft and silky sureface and do not stick anymore (about 10 min).
Place the dough in a bowl, cover it with a towl and let rest for 3 hours. Fold the dough three times in between.
Now divide the dough into pices of 80g and form small boules. Divide the cold butter into small pieces and press a pit in every roll. Fill it with butter pieces and sprinkle the roll with caraway seeds and coarse salt.
Place on a paper linned tray and proof for 1,5 hour.
Preheat the oven to 220°C.
Bake the rolls for 25 min with steam.
[tab:END]
Wer viele leckere Brote sehen möchte, der sollte bei Susans wöchentlichen Yeastspotting vorbeischauen. Ein Besuch dort bringt immer viele neue Ideen!