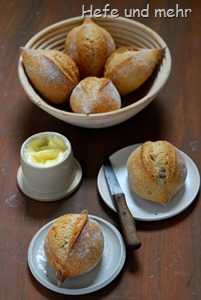 The idea for this rolls started when I pull a nearly forgotten glas with Pâte fermentée from the fridge saturday night. I planed to prepare some sunday morning rolls and so I added some spelt flour (white and and whole grain) for the nutty flavour and egg yolk, butter and milk for a soft crumb. Together with the fermented dough this promised to yield rolls with a deep, complex flavour.
But it was already late at night and so I place the dough in the fridge to rise there until the next morning. Early on Sunday morning I degased the dough, formed the rolls and let them proof for a rather short time. The short proofing made sure that the rolls develope a good oven spring and that the slash opens widely.
The rolls are perfect for a sunday breakfast: beautiful, crisp with soft crumb and as flavourful as they promised to be!