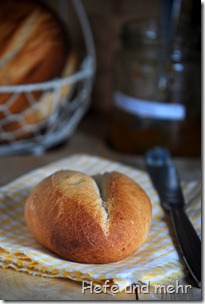 I was very happy with the taste of the "Berliner Knüppel" but their crust was to soft in my opinion. And so I decided to bake another variation, containing less milk but add some butter to the recipe.
I also decrease the time I gave the rolls for proofing. After I realized that their ovenspring was not as high as expected I go down to 35 min and put the rolls in the oven when still a little underproofed. Now they have the kind of ovenspring I was aiming for.
And after changing the recipe so much I decided to change the name, too. Now I call them "Bergische Knüppel" because I am living in the "Bergische Land".
The rolls are very satisfying now: a complex aroma, crispy crust and soft crumb, that is how a roll should be.
Bergische Knüppel
Poolish
150g Water
150g flour Type 550
1g fresh yeast
Dough
Poolish
350 g flour550
125g Water
30g Milk
30g Butter
8g fresh yeast
10 g Salt
In the evening mix water, flour and yeast for the poolish and ferment for about 12 hours at room temperature.
Mix all ingredients for the dough  and knead it for about 5 min at low speed, then 10  min on high speed.
Ferment for 60 min. In the meantime heat the backing stone in the oven to 250°C.
Now  divide the dough into pieces of 80g each. Roll each piece to a ball and rest for 15 min. Press the balls to a disc with thicker rims and a thinner middle. Fold one half of the disk on the other side, forming a halfcircle. Roll with four fingers to a short log (Instruction with pictures).
Proof 35 min on the seamside.
Turn the roll seamside up and bake for about 25 min at 250°C with steam.
I sent this entry to Yeastspotting, Susans weekly showcase of yeast baked good.