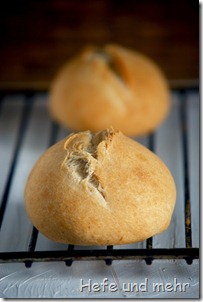 The delicious Knüppel are great as Overnight variation, too.  Kornblumeasked me how to change the recipe so that the dough could ferment overnight and together we developed the overnight variation. And during thinking about it I decided that I would try them, too.
Similar to the Krustis, the dough fermeted slowly overnight and at the next morning I only had to form and bake the rolls. The short proofing (only 30 minutes) helps to get fresh rolls on the breakfast table fastly.
The long fermentation creates more complex aroma then in my first Bergische Knüppel recipe. They had again a great ovenspring, the crust was crisp and crackle during cooling down. The crumb was again niecly soft and fluffy.
I am glad I tried them as overnight roll, too!