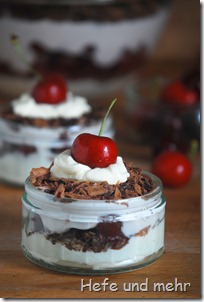 A dessert made with curd (Quark) is always  delicious and a good dessert for  a potluck barbecue. The Schwarzwälder Kirschcreme I made for a barbecue at my colleagues home is a variation of the Schwarzwälder Kirschcreme a former Ph.d. student of us loved to make for those occasions.
I refined the cream with some vanilla and mix some Gianduja chocolate with the semisweet chocolate. Before I grate the chocolate with a slicer I froze them for a while to make the grating easier and forms nice little chocolate curls then.
I layered the dessert in small glasses, but it looks great in a big bowl, too.
With a decoration of  some fresh cherries and a little bit of cream makes the dessert to a beautiful eyecatcher.