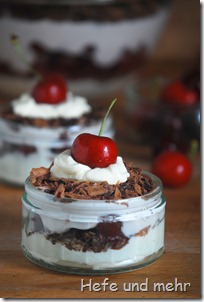 A dessert made with curd (Quark) is always  delicious and a good dessert for  a potluck barbecue. The Schwarzwälder Kirschcreme I made for a barbecue at my colleagues home is a variation of the Schwarzwälder Kirschcreme a former Ph.d. student of us loved to make for those occasions.
I refined the cream with some vanilla and mix some Gianduja chocolate with the semisweet chocolate. Before I grate the chocolate with a slicer I froze them for a while to make the grating easier and forms nice little chocolate curls then.
I layered the dessert in small glasses, but it looks great in a big bowl, too.
With a decoration of  some fresh cherries and a little bit of cream makes the dessert to a beautiful eyecatcher.
Schwarzwälder Kirschcreme
750g Curd (Quark)
300g cream
100g sugar
50g Water
1 Vanilla bean
1 Glass preserved sour cherries (morello cherries) (350g drained weight)
75g semisweet chocolate
25g Gianduja chocolate
some fresh cherries for decoration
Freeze the chocolate for one hour, before grating them with a slicer to thin chocolate curls. Drain the cherries.
Boil sugar with water to syrup. Add the sugar syrup and the pulp of the vanilla bean to the curd, and mix them well. Whip the cream and fold 250g of the cream unter the curd. Reserve the remaining curd for decoration.
Place half of curd cream in a big bowl (or some small glasses), sprinkle with half of the chocolate curls and top them with the cherries. Top the cherries with the remaining curd and sprinkle with the rest of the chocolate. Dekorate with whipped cream and fresh cherries.