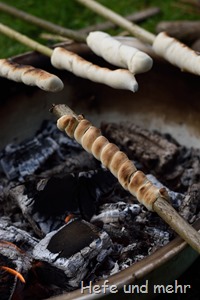 The weather on Pentecost was far away from being warm and sunny, but it was not rainy, either. And so my mum and I take my niece and nephew into the woods to collect hazelnut sticks for making bread on a stick. Before we left my – near to five years old niece – had already kneaded the dough (with some help from my mum). This girl really takes after this side of the family and can knead dough already like a pro.
In the woods we found some fir cones as well which we used then to start a fire when we were back in the garden. We let the fire burn down to glow, as this gives a much more regular heat and the bread on stick bakes regular without burning. Our fire place is a old metal baby bath tube and its rims has the perfect high for placing the sticks on it. You just have to turn them a bit once in a while to ensure that the bread bakes on all sides.
We had a lot of fun with our stick on bread, it is a  great pleasure for the whole family.