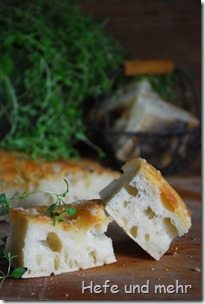 Bread Baking Day celebrates its 6. Birthday! In 2007 Zorra started this Bread Baking-Event and since then bakers from all over the world met virtually already 60 times. I participated for the first time in 2009. Since then I try to be a regular part of the event. For two times I was already  hosting BBD. Time is flying!
Each Bread Baking Day has its own theme and for this jubilee Zorra wishes "Bread with Glazing". What kind of glazing she left to ourselves.
I had to think for some time about a recipe but at the end I decided to bake a focaccia. Focaccia is glazed with olive oil and sprinkled with salt and herbs prior to baking.  The olive oil soaks the crust during baking and adds a delicious flavour to the dough. It is a great bread for the summer (even when its raining all the time)!
Dear Zorra, all the best to the Event-Birthday!
Focaccia
500g flour Type 550
400g Water
3g yeast
10g Salt
Glaze
olive oil
Fleur de Sel
fresh herbs (Rosemary, Thyme)
Dissolve the yeast into the water and add the mixture to the other ingredients in a bowl. Mix all ingredients for the dough. Let it rest for 20 min, then fold it from the outside of bowl into the middle for three or four times. Let rest for 20 min again, then fold the dough and repeat the resting and folding steps one time more.
Ferment the dough for 24 – 48 hours in the fridge. After 12 and 24 hours fold the dough again.
Heat baking stone in the oven to 250°C.
Flour the countertop and carefully turn the dough on it. Gently stretch the dough into a square.
Place on a very well floured peel and cover with a cloth and proof for 50 min.
Prior to baking make wells in the dough by pressing the fingers into it. Generously glaze with olive oil and sprinkle with salt and fresh herbs.
Bake on the preheated stone for 35 min with steam.
I sent this entry to Yeastspotting, Susans weekly showcase of yeast baked good.