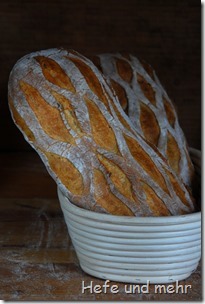 I planed to call this bread "May crust", hoping to lure the sun from behind the rain clouds we had all May long.  But then my boyfriends Mum came in our kitchen while the bread was cooling and exclaimed: "Your loaves look like young boars!" And from that moment on, we called them "Young Boar Crust".
The beautiful young boar pattern is due to cutting the bread with short regular cuts, lengthwise to the loaf. I saw pictures of a similar bread on PIPs Blog and fell in love with the pattern directly. He did not specify how the cuts were applied on the bread and so I kept trying for three weeks until I finally get the hang of it! I already baked some baguette rolls with this pattern and now this Young Boar Crust.
The Bread is made with a mixture of wheat, spelt and rye. Two different preferments and a long, cold fermentation give a very complex taste to the bread. The crumb is very soft and the crust thick and crunchy. A great bread for both sweet and salty sandwiches.