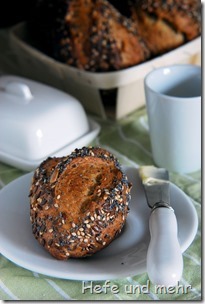 Why did I take so long until I publish this recipe? I don't know. Sometimes, when I'm short in time, I note down the  recipe and take a photo but do not blog it. And when time pass, the recipe vanish in the blog nirvana. And that's what happend to this spent grain rolls recipe.
But luckily Alexandra asked me for a recipe for spent grain flour. And so I pulled out the recipe and freed it from dust.
And that is so good, because the rolls are delicious. The spent grain flour adds a nice roasted malt aroma to the slightly sour taste of the yoghurt and the long fermentation creates a complex taste.