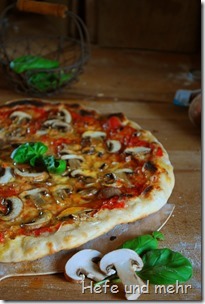 I know, I know … there is already more than one recipe for Pizzadough on this blog. But this dough is so simple and good, I had to post this recipe as well.
It is a "What I have in the cupboard" recipe, when I was to lazy to go to the pantry to fetch another bag of wheat flour. So I used some leftover spelt flour instead. I mixed the dough and folded it for some times, and put it then in the fridge, similar to the Wurzelbrot or the baguette recipe. Very easy!
When I came home the next evening after a long workday, I started to prepare our pizza. And when I stretched the dough to a flat square I realized what a great idea it was to add some spelt. The spelt flour made the dough very easy to handle and to strech in form, while the long and cold fermentation creates a great flavour and big air bubbles in the dough during baking.