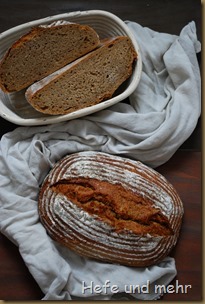 There was no bread left in our freezer, the drawer was completly empty, all the bread was eaten! So it rtime to stock it up again! But what should I bake? Looking around in the kitchen I rembered my spent grain flour and decided to bake a brewer bread once again.
It is always amazing how dark the dough turns when I add the spent grain flour. But when you consider that it has a fibre content of 50%, it is not so suprising! To soak the spent grain flour properly, I scalded it together with oat bran and spelt flour in hot whey. The smell of this hot soaker was incredible, malty and flavoursome!
The soaker keeps the bread fresh for a long time, and makes a great, soft crumb. I like the bread very much, it has a deep malty flavour with a hint of nuts – it's a new favourite!