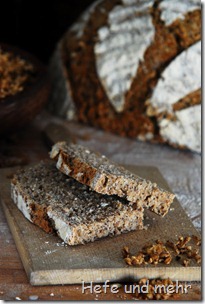 Since I gave my boyfriend a home brewer set as birthday present, we learning how to brew beer. For our first try we used the beer kit that came with the set, which is malt extract with hop extract. Nice for the start, but it reminds us of cooking with packaged mixes. That's not what we want, we want the real adventure.
And so we started a second try using real malt and hop. After mashing – the break down of the starch to sugar in the malt – we had the spent grains as byproduct. Our recipe mentioned that this spent grains can be fed to chickens or cattle or that it can used for bread baking.
It can be used for baking bread? Pass me the sourdough, sweetheart…
The Spent grain bread has a compact and moist crumb and if I would not know that I added some all-purpose flour, I would thought it is a whole grain bread. It is a hearty loaf with the aroma of sourdough and the spices I used. The spent grains add a nutty taste. It goes very well with some strong cheese.
And what am I doing with the remaining spend grain? It is drying in the oven right now, I want to test milling it into flour…
Spend grain bread
Sourdough
75g flour Type 550
25g Rye, freshly milled
100g Water
10g Sourdough
Soaker
50g flax seeds
25g poppy seeds
50g sesame seeds
100g boiling Water
Dough
Sourdough
Soaker
325g flour Type 550
50g wheat, freshly milled
125g Rye, freshly milled
2g coriander seeds, freshly milled
2g carawayseeds,freshly milled
1g fennel seeds, freshly milled
1g Schabzinger-Klee (Trigonella caerulea)
200g spent grains
260g Water
5g fresh yeast
15g Salt
Mix water, flour and yeast for the sourdough and ferment it overnight (about 12 hours).
For the soaker mix the dry ingredients and add the boiling water. Let soak for at least one hour.
The next morning mix all ingredients for the dough except the soaker and spend grain sand knead it for about 3 min at low speed, then 5 min on high speed until medium gluten development. Turn back to low speed and knead the soaker and spend grains into the dough.
Ferment for 1,5 hours. Fold the dough three times during this time.
Form a round bread and place them in brotform.
Proof for 1 hour.
In the meantime heat the baking stone at 250°C.
Slash prior baking. Bake the breads for 10 min with steam at 250°C then turn the temperature down to 200°C and bake the bread for another 40 min.
I sent this entry to Yeastspotting, Susans weekly showcase of yeast baked good.