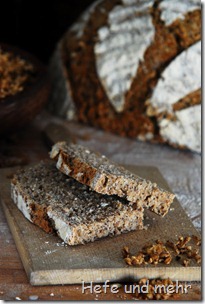 Since I gave my boyfriend a home brewer set as birthday present, we learning how to brew beer. For our first try we used the beer kit that came with the set, which is malt extract with hop extract. Nice for the start, but it reminds us of cooking with packaged mixes. That's not what we want, we want the real adventure.
And so we started a second try using real malt and hop. After mashing – the break down of the starch to sugar in the malt – we had the spent grains as byproduct. Our recipe mentioned that this spent grains can be fed to chickens or cattle or that it can used for bread baking.
It can be used for baking bread? Pass me the sourdough, sweetheart…
The Spent grain bread has a compact and moist crumb and if I would not know that I added some all-purpose flour, I would thought it is a whole grain bread. It is a hearty loaf with the aroma of sourdough and the spices I used. The spent grains add a nutty taste. It goes very well with some strong cheese.
And what am I doing with the remaining spend grain? It is drying in the oven right now, I want to test milling it into flour…