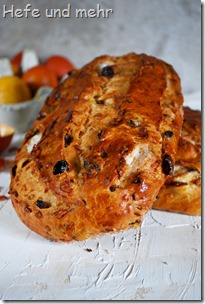 When I saw the Poschweck that Petra baked some days ago, I knew that I had to bake some as well because it looked so delicious!
The Poschweck is a very traditional bread which the Bakers of Aachen gave as present to their customers during Easter since the late medieval. It is first mentioned 1547 in the "Aachener Bäckerverordnung" (Bakers edict). In 1760 some bakers tried for the first time to get rid of this custom but they where forced by the municipality to deliver the sweet breads.  After nearly another 100 years they tried again to break with the tradition, which ended with the so called "Poschweck riot" in which angry citizen demolished shops. To restore the public order the bakers where forced once again to bake and give away the Poschweck. Finally, in 1946 the bakers succeed with their claim to sell the Poschweck instead of giving it away.
I used Petras Recipe as a start for my own variation of Poschweck. With a pâte fermentée and less yeast the bread develops a complex taste. With almonds, raisins and sugar cubes and the hint of orange and vanilla it is a really rich bread. I love the fact that the sugar cubes will melt during baking and leave sweet and sticky holes in the bread (which you can see on the picture below).  A perfect bread for persons with a sweet tooth!