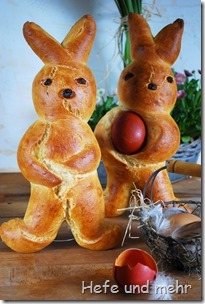 When I take a look out of the window on Good Friday, I had to blink and take a second look. Yes, during the last night our street was dusted with snow. During Christmas I would be happy with snow, but at the end of march I don't need it anymore. I shortly considered to go back to bed and to stay there until it is finally spring. But complaining about the weather will not change it and so I started some dough to bake a nut-filled braid, some "Poschweck" and this sweet Easter bunnies.
I bake Easter bunnies every day. We eat some for Breakfast and the rest I give away. So we gave one of the bunnies as Easter present to my little niece. This year I made the dough with a pâte fermentée and seasoned it with some grated orange peel.
They taste good – my niece eat immediately a big part of her "Hasi" – is there a bigger compliment?