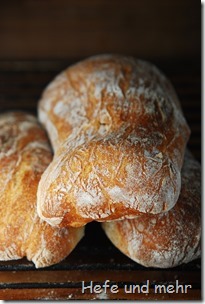 The Baguette with the long, cold fermentation was so delicious, that I started to though about using the same methode to bake Ciabattas. And because I did not bake Ciabattas for a quite long time, I did not only think about it but mixed directly a dough.
The dough needs a long time in the fridge, about 24 hours or longer, but the hand-on time is very short. At the beginning you have to fold the dough three times during the first hour, and then the dough slumbers in the fridge. At the baking day, you have only to preheat the baking stone and form the ciabatta. That makes the whole process really relaxing.
The dough is very soft, but gains a good gluten network during folding. With a well floured countertop and a dough scrapper it is easy to form the ciabatta. During the fermentation big air bubbles are already formed in dough.
The bread has a very open crumb with big holes and a crunchy crust. The long fermenation adds a lot of complex aroma with a fruity hint due to the olive oil. A very good bread!