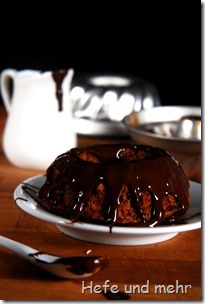 A dear friend and favourite colleague doesn't like poppy seeds. She always tells me that. And then she brings me from her lunch break little pieces of poppy seed cakes to try, because she likes it so much. And tells me about this great recipe for poppy seed rolls, which she could not find in her recipe folder anymore and that she is upset about that. Having this facts in mind, I decided to take a risk when baking her birthday cake.
In the January/ February –Issue of the Magazine "Landlust" I found a recipe for a Poppy seed Gugelhupf and I was very sure that she would like it. The dough contains a lot of eggs and butter, which keeps the cake soft and moist, which is the perfect consistence for a gugelhupf. The cake contains mainly grounded poppy seeds, some almonds and nearly no flour. It is flavoured with grated lemon peel, vanilla and a little pinch of cinnamon. Some lemon juice adds a fresh taste.
The only problem is the tendency of the cake to stick to the pan, even to my non sticking one. So take care to not only grease it very well but although sprinkle the greased pan with some grounded almonds or flour so the cake will come out more easily.  But beside this it is a lovely cake which I baked already twice.
And did my friend like the cake? A big "yes" and she is now thinking that she maybe like even poppy seeds 😉