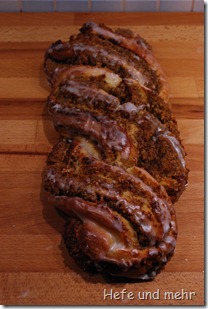 After our lab moved to the new bio center we are now nearly back to everyday life. Some things are not working as they should, but it gets better every day! In our coffee room we miss the new kitchen (it will be delivered later this month) but we have already tables, chairs, and a coffee machine, so we have all things which are essential for a nice break. Thats why I could bring my birthday cake (with a month delay).
The Nusszopf I bake is a very nice pastry, filled with a soft mixture of hazelnuts, caramelle, cinnamon and vanilla. The filling keeps the zopf fresh so its no problem to bake it one day in advance.
Nusszopf
yield 2 Zöpfe
Pâte fermentée / alter Teig:
210 g flour (Typ 550)
145 g water
1g fresh yeast
4g salt
Dough:
360 g flour(Typ 550)
200 g milk
9 g fresh yeast
7g salt
all of the pâte fermente
3 egg yolk
75 g sugar
75 g butter
Filling
400g hazelnuts, grinded
50g bread crumbs
200g sugar
400g milk
2 TL Vanilla extract
1 teaspoon cinnamon
3 egg white
Icing
100g powdered sugar
juice of  1/2 citron
Mix all ingredients for the Pâte fermente and proof it for 1 hour at room temperature. Then put the dough into the fridge for 12 hours.
Dissolve the yeast in milk, then knead in the kitchen machine with eggs, salt, flour and Pâte fermente for 5 min at slow speed.
The knead 7 min at middle speed. Because the sugar inhibits the gluten development, the sugar is added just now. Add always a tablespoon at once and knead in between always for 1 min. At last add the butter all at onc and knead untill the butter is completly incooperated.
Ferment for one hour, then place the dough in the fridge for another hour. Because of the  cooling you can handle the dough easier.
While dough is fermenting prepare the filling: Caramalize sugar in a pan untill golden then take from the heat an add the milk. Place the pan back on the heat and simmer untill the caramlized sugar is completely disslolved. Now add grinded hazelnuts, bread crumbs and spices and stirr the mixture untill its starts to bubble. Now set aside to cool down. After cooling fold in the egg white.
Roll the dough to a rectangel of 30 cm x 60 cm, and spread the filling on it. Roll into a log and cut in half.
Place each log on a tray covered with baking paper, then use a scissor to cut it lengthwise, so you got two strangs. Twist both strangs around each other and proof the Zopf for 1.5 hours or overnight in fridge.
Preheat the oven to 200°C and bake for 35 min untill golden.
Mix powered sugar and citron juice and glace the Nusszopf after it has cooled down.