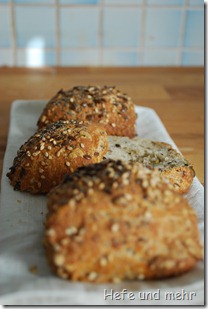 I like yoghurt in bread very much, as I told before. Yoghurt gives a hint of sourly taste to the bread and elongates the shelf live. So when I saw the recipe for yoghurt rolls at Bäcker Süpkes Blog I know that I had to try them.
Not only I bake the rolls: I found them in  Deichrunner's Küche,at Chili und Ciabatta and  Bao/Bread. But while the other bakers bake the recipe like it was written, I have to confess two changes: I reduce the amount of yeast and replace the rye with wheat.
The rolls turned out very fine: fluffy with a nice crust and a delicious taste. The perfect roll for breakfast on Sunday.
Yoghurt-rolls
yields 30 rolls
Soaker:
70 g wheat, coarsely ground
145 g spelt, coarsely ground
36 g salt
215 ml water, boiling
preferment:
280 g flour, Type 550
1 g fresh yeast
280 g water
dough:
960 g flour Type 550
20 g fresh yeast
220 g yoghurt
400 g water
75 g sunflower seeds
140 g pumpkin seeds
75 g sesame
75 g flax seeds
topping:
Mix all ingredients for the preferment and proof it for 1 hour at room temperature. Then put the dough into the fridge for 16 hours.
For the soaker mix the coarsely ground grains with salt and boiling water. Let it cool completely (takes about 2 hours).
Roast the seeds until golden, then set them aside to cool down.
Mix flour, yeast, water, yoghurt, soaker and preferment and knead it for about 8 min at low speed, then 4 min on high speed. Now turn back to slow speed and add the seeds to dough. Knead shortly until the seeds are incooperated.
Ferment the dough for 40 min.
Flatten the dough a little bit and cut it into squares (about 80g each). Wet their surface and dip the rolls into the seed mixture. Place them on paper lined baking trays.
Proof for 1 hour.
In the meantime heat the oven to 220°C.
Bake the rolls for 30 min with steam.