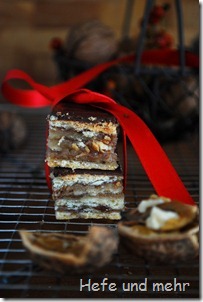 There are recipe which even I do not dare to change. The recipe for Greta-Garbo-Schnitten is one of this examples. It is a traditional sweet from the side of my family which stemmed from Siebenbürgen /Transylvania. I firmly believe that this recipe is rooted in the cake Gerbeaud-Schnitten of the Cafe Gerbeaud, but I stay with the Name in which it is filled in the handwritten cookbook of my grandmother. That is traditional, it will keep its Name Greta-Garbo-Schnitte.
The only change I dared to make is that I let the dough rest a little bit before I roll it into sheets. That makes rolling it thinly much easier.
The little slices are a great treat with a cup of coffee. And if you have a little bit patient and self-control, you can let them rest some days before eating them and they will reward you with a perfect mellow texture and a taste infused by walnuts, currants and chocolate.
Greta-Garbo-Schnitten
Dough
500g flour Type 550
200g Butter
2 eggs
20g fresh yeast
50g powdered sugar
80g sour cream
Filling
450g currant jelly
250g Walnuts or other nuts
150g powdered sugar
Glazing
Knead the ingredients for the dough to a homogenous dough. Divide into four pieces and let them rest for 30 min.
Ground the nuts finely and mix with powdered sugar. Warm the currant jelly to make it smooth.
Roll the first piece of the dough to the size of the baking tray (about 30cm x 40 cm). Place it on the paper lined baking tray and spread 1/3 of the jelly on top. Sprinkle 1/3 of the nut-sugar mixture on it. Now roll the next piece, lay it on top and spread it again with 1/3 of the jelly and sprinkle 1/3 of the nut-sugar-mixture on top. Repeat it once again, then at the final layer of dough.
Bake at 175°C for 35 min until the surface is golden.
Let cool for 15 min, then turn the cake upside down with help of a second tray.
Let cool completely, then cover the top with coverture. When the coverture has hardened, cut the cake into small slices of 2cm x 4cm. Store in a tin box. The cake can be stored like this for 1 or 2 weeks.
I sent this entry to Yeastspotting, Susans weekly showcase of yeast baked good.