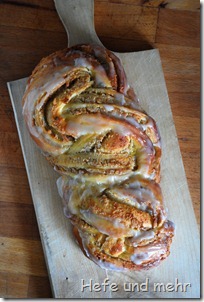 When I bake cake to celebrate with my colleagues (e.g. at my birthday) it is some kind of tradition to include a nut filled braid. But sometimes I need to break out of the routine and so I decided to bring a marzipan braid this year, too.
I make a dough with sourdough, which kept the braid fresh for 2 days (well, the small left over of it at least). But if anyone don't like sourdough in a sweet pastry, the 1.5 amount of dough from the nut filled braid would go nicely with the filling, too.
The filling contains beside marzipan grounded almonds, some bread crumbs and egg white. The mixture is lovely, the taste of marzipan is dominant without overpowering the aroma from the dough.
It is a recipe for Marzipan lovers – and you can find a lot of some among my colleagues. And so everyone was very happy with this new recipe!