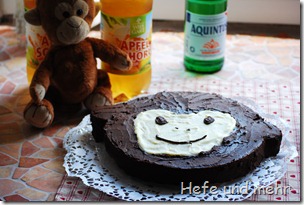 I have still a lot of recipe waiting to be posted. And so here is another birthday cake recipe. This time it was not for me but for a very cute little girl. She loves monkeys and B-A-N-A-N-A-S. And when her Mom asked me to bring a Cake for her birthday, I decided to bake a Monkey Cake for her.
The Idea for this cake is from smitten kitchen, who baked this cake as a birthday cake for her son.
I changed the recipe a little bit, reduing the sugar amount to the half and exchanging the butter cream to a ganache.
The cake was delicious and looked very cute. Perfect for first birthdays!