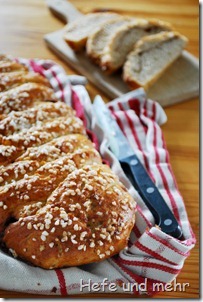 Yeastspotting always inspires me always to bake something. And sometimes the recipes urge me to bake them directly. The Kanelfläta from My Italian Smörgåsbord was such a recipe.
Kanelfläta is a swedish cinnamon braid, which –as I learned from Barbara- is eaten together with the colleagues for fika (afternoon coffe break). My colleagues and me meet every morning for a "Frühstückspause" at 9 o'clock with a cup of coffee in our coffee room. And something sweet for the break is always loved. And so I decided to bake the Kanelfläta for them.
I reduced the amount of yeast in recipe and added a Lievito madre and some Cardamom to the dough. The combination of cardamom in the dough and cinnamon in the filling is a "must have" for me. I love this combination. I reduced the size of the braids a little bit and came up with four nice braids which had the perfect size for our "Frühstückspause" .
And what should I say? It's as well a perfect treat for a morning break as for a afternoon break! A aromatic dough, the taste of cinnamon and cardamom – is there a better way to start a day?