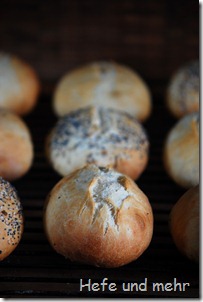 After I prepared the Lievito madre, I wanted to test this preferment, too! And to play around with things like preferments, its always good to use a recipe you know inside out. For me, such a recipe is the recipe for "Knüppel", which I bake already in different variations.
This time, I replaced the with Lievito madre. The rolls were formed as always and after a short proofing I load them into the oven.
It's said that bread made with Lievito madre has a great oven spring, and really, the rolls rise very high in the oven and cracked open along the "lip" which is created during forming.
The taste of the rolls is complex, but mild, with no acidic hints of sourdough.
I am very pleased with the result and will try other recipes with this prefermt for sure!