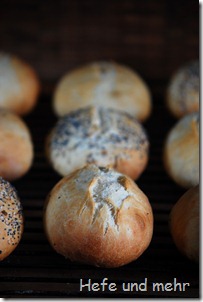 After I prepared the Lievito madre, I wanted to test this preferment, too! And to play around with things like preferments, its always good to use a recipe you know inside out. For me, such a recipe is the recipe for "Knüppel", which I bake already in different variations.
This time, I replaced the with Lievito madre. The rolls were formed as always and after a short proofing I load them into the oven.
It's said that bread made with Lievito madre has a great oven spring, and really, the rolls rise very high in the oven and cracked open along the "lip" which is created during forming.
The taste of the rolls is complex, but mild, with no acidic hints of sourdough.
I am very pleased with the result and will try other recipes with this prefermt for sure!
Bergische Knüppel with Lievito madre
Dough
150g Lievito madre
350g flour Type 550
215g Water
30g Milk
30g Butter
8g fresh yeast
10 g Salt
Mix all ingredients for the dough  and knead it for about 5 min at low speed, then 10  min on high speed.
Ferment for 90 min. Fold the dough two times in this time. After 60 min of fermenting time heat the backing stone in the oven to 250°C.
Now  divide the dough into pieces of 80g each. Roll each piece to a ball and rest for 15 min. Press the balls to a disc with thicker rims and a thinner middle. Fold one half of the disk on the other side, forming a halfcircle. Roll with four fingers to a short log (Instruction with pictures).
Proof 30 min on the seamside.
Turn the roll seamside up and bake for about 25 min at 250°C with steam.
I sent this entry to Yeastspotting, Susans weekly showcase of yeast baked good.