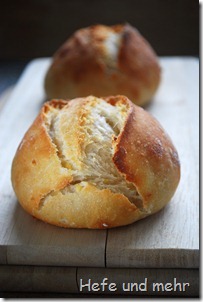 Summer holidays are the time in the year when we eat a lot of rolls. Rolls are the most important component for our relaxed breakfast on sunny (or rainy) summer mornings. And when our holiday home kitchen has a real oven, the rolls for breakfast are of course homemade. I love to test new recipes during this summer times.
And what are better recipes for holidays then overnight recipes? And so I played around with the Lievito madre. To prevent the dough of getting to sour, I reduced the amount of the preferment. That resulted in a slightly sour taste which fits nicely to the mashed potatoes and creme fraiche I added to the dough, too. The potatoes and creme fraiche creates a soft and fluffy crumb, and keep the crust a little bit lesser crisp then of other rolls, but I like them like that. They taste just great!
Potato rolls with Lievito Madre
50g Lievito Madre
60g Creme fraiche
350g flourType 550
150g mashed potatoes
150g Water
10g Salt
2g fresh yeast
Dissolve the yeast into the water and add the mixture to the other ingredients in a big bowl (about 5l). Mix all ingredients for the dough and let it rest for 30 min, then fold it from the outside of bowl into the middle for three or four times. Let rest for 30 min again, then fold the dough and repeat the resting and folding steps one time more. Ferment the dough overnight (8 – 10 hours) at room temperature.
The next morning: Heat the oven with the baking stone to 225°C. Divide the dough into pieces of about 85g each. Shape into rolls. Wet their surface and roll them into sesame or poppy seeds. If you like leave some of them plain.
Proof for 40 min.
Slash them lengthwise and bake at 250°C for 20 min with steam. Open the oven door to release the steam and bake for another 5 min on convection mode to get a crispy crust.
I sent this entry to Yeastspotting, Susans weekly showcase of yeast baked good.