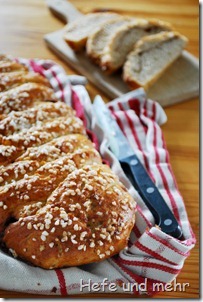 Yeastspotting always inspires me always to bake something. And sometimes the recipes urge me to bake them directly. The Kanelfläta from My Italian Smörgåsbord was such a recipe.
Kanelfläta is a swedish cinnamon braid, which –as I learned from Barbara- is eaten together with the colleagues for fika (afternoon coffe break). My colleagues and me meet every morning for a "Frühstückspause" at 9 o'clock with a cup of coffee in our coffee room. And something sweet for the break is always loved. And so I decided to bake the Kanelfläta for them.
I reduced the amount of yeast in recipe and added a Lievito madre and some Cardamom to the dough. The combination of cardamom in the dough and cinnamon in the filling is a "must have" for me. I love this combination. I reduced the size of the braids a little bit and came up with four nice braids which had the perfect size for our "Frühstückspause" .
And what should I say? It's as well a perfect treat for a morning break as for a afternoon break! A aromatic dough, the taste of cinnamon and cardamom – is there a better way to start a day?
Kanelfläta
Dough
225g Lievito madre
500g flour Type 550
250g wheat, freshly milled
550g Milk
15g fresh yeast
10g Salt
1g cardamom
75g sugar
150g Butter
Filling
75g sugar
75g soft Butter
2 tbs. homemade Vanillasugar
2 tbs. cinnamon
Glazing
Dissolve the yeast in milk, then knead in the kitchen machine together salt, flour, whole wheat flour, cardamom and Lievito madre for 5 min at slow speed.
The knead 7 min at middle speed. Because the sugar inhibits the gluten development, the sugar is added just now. Add always a tablespoon at once and knead in between always for 1 min. At last add the butter all at oncw and knead until the butter is completely incooperated.
Ferment for one hour.
Prepare the filling by mixing all ingredients.
Divide the dough in four pieces and flatten them into rectangles of 30cm x 20 cm each.
Spread the filling lengthwise as a stripe in the middle of the dough. Cut the sides into stripes of 1 cm each in an angle of about 45°.
Fold the stripes alternating in the middle, creating a braid pattern.
Proof for 1 hour.
Before baking glaze with egg and sprinkle with pearl sugar
Bale at 180°C with convection for 20 min.