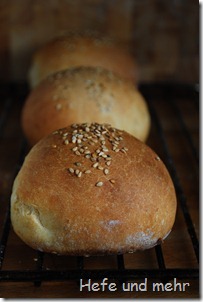 A happy bubbling sourdough greeted me in my summer warm kitchen when I came home from work two weeks ago. In the morning I had refreshed the sourdough because I promised to bring sourdough for a colleague.
When I was standing in the kitchen, thinking about what to cook for dinner, I looked at the sourdough and rembered that we had frozen some burger patties for the boyfriend when we made burgers the last time. And in the fridge I had tofu, perfect for my vegetarian burgers. And here was the sourdough, ready to bake some burger buns.
Until the  boyfriend came home from work one hour later, the dough for the buns was already rising. And two hours later we sat in the kitchen and enjoyed our burgers.
I'm very happy with this recipe. The buns had a very thin crust, a terrific soft crumb and such a nice complex taste due to the sourdough!
Burger buns
Sourdough
150g flour Type 550
105g Water
20g Sourdough-Starter
Dough
Sourdough
425g flour
175g Water
55g Egg (1 Egg size L)
40g oil
5g fresh yeast
20g sugar
10g Salt
Topping
Mix the ingredients for the sourdough and ferment for about 12 hours at 25°C.
Knead all ingredients for the dough for 5 min at slowest speed, then around 11 min on fast speed until complete gluten development.
Ferment for 1 hours.
Divide into 80g pieces and form to round buns. Wet their surface and sprinkle with sesame.
Cover and proof for 1 hour.
In the meantime heat the baking stone to 250°C.
Bake at 250°C for 20 min with steam.
I sent this entry to Yeastspotting, Susans weekly showcase of yeast baked good.