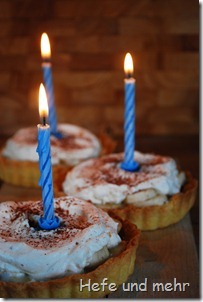 To a birthday belongs a birthday cake. The traditional birthday cake in my family has to have a heart shape and will not be baked by the birthday child. And so my Mum will bake my birthday heart for me when we meet this weekend.
But anyway I like to have a piece of cake on my birthday, too.
And so I baked a small cake. Better to say, I bake three small cakes, one for each decade :-).
I met the tempting combination of banana, caramel and cream as a cake at a birthday of a colleague and fell directly in love with it. I just modified the recipe a little bit, using my "Confiture de lait" recipe for the caramel, and cut down the amount of sugar in the cream and short crust. Even then, it is a really sweet cake, I can only eat a little piece at a time, but it tastes so good!