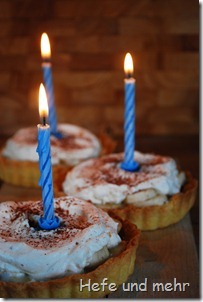 To a birthday belongs a birthday cake. The traditional birthday cake in my family has to have a heart shape and will not be baked by the birthday child. And so my Mum will bake my birthday heart for me when we meet this weekend.
But anyway I like to have a piece of cake on my birthday, too.
And so I baked a small cake. Better to say, I bake three small cakes, one for each decade :-).
I met the tempting combination of banana, caramel and cream as a cake at a birthday of a colleague and fell directly in love with it. I just modified the recipe a little bit, using my "Confiture de lait" recipe for the caramel, and cut down the amount of sugar in the cream and short crust. Even then, it is a really sweet cake, I can only eat a little piece at a time, but it tastes so good!
Banoffee Pie
yield 3 Pies with a diameter of 12 cm each
Short crust
150g flour Type 405
75g Butter
1 Egg
30g sugar
1 Pinch Salt
Caramel
300g Milk
135g sugar
1 Pinch Salt
Filling
2 Bananas
200g cream
1 Tbs. Vanilla sugar
some cacao for decoration
For the dough mix Butter with sugar and egg, then add flour and salt and knead shortly until homogenous. Place in the fridge for 30 min. Now roll thinly and line three tarte forms (Diameter 12 cm). Bake for 15 min at 180°C.
In the meantime prepare the caramel: Mix milk with sugar and salt. Simmer on low heat and whisk from time to time. The mixture starts to thicken after about 45 – 60 minutes. Now keep an eye on the confiture, it will become dark very fast. When it has a niece golden hue and a creamy consistence, pour the caramel in a bowl. Spread the caramel on the still hot short crust, then let it cool down.
Slice the Bananas thinly and place the slices on the caramel layer.
Now whip the cream until soft peaks and spoon it over the bananas. Sprinkle with some cacao and serve directly.