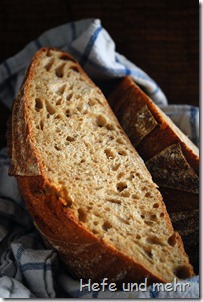 Some German Bloggers already baked Martins Honungssyrad råg with variations. He played with the recipe, too. For me, the recipe was not so tempting because once again I try to avoid rye to reduce my skin irritations.
But the recipe kept spining in my head. When I can not use rye, what's about spelt, I asked myself. The combination of spelt and honey is something I like very much. And my sourdough starter was so lively after the last warm summerdays. And so I decided to bake a sourdough bread with honey and spelt.
It has nothing in common with Martins recipe anymore despite the fact that it contains sourdough and honey.
The bread dough is easy to handle, but you need a little bit of time management: The sourdough is prepared in the morning, the dough is kneed in the afternoon and the bread is formed in the evening. It proofs then overnight in the fridge and 24 hours later you pull a delicious smelling out of the oven.
The slight sweetness of honey fits perfect to the mild aroma of the spelt while the sourdough adds a subtle tartness.