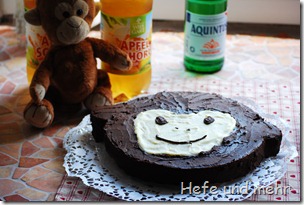 I have still a lot of recipe waiting to be posted. And so here is another birthday cake recipe. This time it was not for me but for a very cute little girl. She loves monkeys and B-A-N-A-N-A-S. And when her Mom asked me to bring a Cake for her birthday, I decided to bake a Monkey Cake for her.
The Idea for this cake is from smitten kitchen, who baked this cake as a birthday cake for her son.
I changed the recipe a little bit, reduing the sugar amount to the half and exchanging the butter cream to a ganache.
The cake was delicious and looked very cute. Perfect for first birthdays!
Monkey Cake
Batter
400g flour Type 405
17g Baking Powder
5g Salt
1 Tsp. Cinnamon
225g Butter
150g sugar
20g homemade Vanilla sugar
4 Eggs
100g Yoghurt
550g very ripe Bananas (about 5-6 Bananas)
dark Ganache
200g cream
100g semi sweet chocolate
light Ganache
100g cream
50g white chocolate
Combine flour with baking powder, salt and cinnamon. Cream butter with sugar and vanilla sugar, then add the eggs and whip until frothy. Mash bananas and combine yoghurt and bananas with the egg-sugar-butter mixture. Then stir in the flour mixture.
Butter a springform (24 cm Diameter) and two small forms (7 cm) and fill with the batter. Bake for 45 min at 175°C (the small forms need about 25 min). Remove the cake from the forms and let them cool down.
In the meantime bring the cream to boil and pour it over the chocolate. Let it sit for 5 min, then stir until the chocolate is molten. Cool the ganache in the fridge. After the ganache is cold, whip it shortly.
For the monkey face, cut the small cakes (ears) on one site and "glue" it to the big cake (head) with some ganache. Now paint the face of the monkey with the light ganache and cover the rest with the dark one. At the end, draw eyes, nose and mouth with some dark ganache.