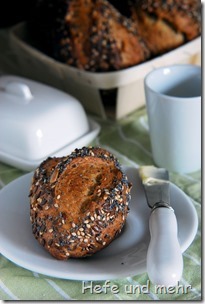 Why did I take so long until I publish this recipe? I don't know. Sometimes, when I'm short in time, I note down the  recipe and take a photo but do not blog it. And when time pass, the recipe vanish in the blog nirvana. And that's what happend to this spent grain rolls recipe.
But luckily Alexandra asked me for a recipe for spent grain flour. And so I pulled out the recipe and freed it from dust.
And that is so good, because the rolls are delicious. The spent grain flour adds a nice roasted malt aroma to the slightly sour taste of the yoghurt and the long fermentation creates a complex taste.
Spent grain rolls
400g flour Type 550
40g spent grain flour
300g Yoghurt
80g Milk
50g mixed seeds (poppy seeds, Sesame, flax seeds, sun flower seeds)
3g fresh yeast
8g Salt
for sprinkling
50g mixed seeds (poppy seeds, Sesame, flax seeds, sun flower seeds)
At the evening dissolve yeast in yoghurt and mix with the other ingredients until homogenous. Ferment at room temperature.
Divide the dough into pieces of 85g each and form them to light balls. Rest them for 10 min.
Flatten the pieces to thin ovals and rolls them tightly into logs. Wet their surface and turn them in the seed mixture.
Proof for 60 min on a well floured couche.
In the meantime heat the baking stone at 250°C.
Slash the rolls two times prior baking. Bake at 250°C for 20min with steam.
I sent this entry to Yeastspotting, Susans weekly showcase of yeast baked good.