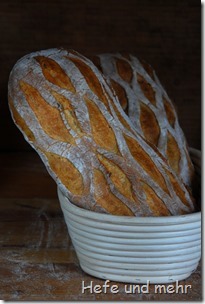 I planed to call this bread "May crust", hoping to lure the sun from behind the rain clouds we had all May long.  But then my boyfriends Mum came in our kitchen while the bread was cooling and exclaimed: "Your loaves look like young boars!" And from that moment on, we called them "Young Boar Crust".
The beautiful young boar pattern is due to cutting the bread with short regular cuts, lengthwise to the loaf. I saw pictures of a similar bread on PIPs Blog and fell in love with the pattern directly. He did not specify how the cuts were applied on the bread and so I kept trying for three weeks until I finally get the hang of it! I already baked some baguette rolls with this pattern and now this Young Boar Crust.
The Bread is made with a mixture of wheat, spelt and rye. Two different preferments and a long, cold fermentation give a very complex taste to the bread. The crumb is very soft and the crust thick and crunchy. A great bread for both sweet and salty sandwiches.
Young Boar Crust
yields 2 Breads
Pâte fermentée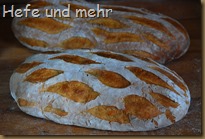 150g flour Type 550
105g Water
2g Salt
1g fresh yeast
Sourdough
170g Water
170g flour Type 550
17g Sourdough
Dough
Pâte fermentée
Sourdough
200g Rye flour Type 1150
200g Spelt flour Type 1050
300g flour Type 550
400g Water
20g enzyme inaktive Malt
25g Butter
20g Salt
10g fresh yeast
Mix water, flour and starter for the sourdough and ferment for about 12 -16 hours at 25°C.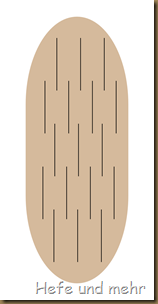 Mix all ingredients for the Pâte fermentée and proof it for 1 hour at room temperature. Then put the dough into the fridge for 12 hours.
In the evening, mix the differnet flours with sourdough, Pâte Fermentée and water. Rest for 45 min (Autolyse).Now add the remaining ingredients and knead for 5 min with hand. Let it rest for 20 min, then fold it from the outside of bowl into the middle for three or four times. Let rest for 20 min again, then fold the dough again.
Ferment the dough for 12- 24 hours in the fridge.
Heat baking stone in the oven to 250°C.
In the meantime divide into two equal pieces. Preshape into a oval and let the dough relax for 20 min. Now form the two loaves and proof them on a well floured couch for 60 min. Transfer the loaves on a peel and cut it lengthwise in a net like manner (see picture).
bake the loaves on the hot stone for 45 min at 250°Cwith steam, until the crust is golden brown. In the last 10 min turn on convection mode for a really crisp crust.
I sent this entry to Yeastspotting, Susans weekly showcase of yeast baked good.