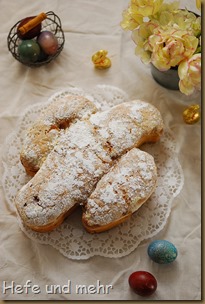 When I baked the little Colombinas about five years ago I was already searching for the traditional paper mold for Colomba pasquale. But I had no luck finding one neither in the "real word" nor in german onlineshops. And so I finally give in and bought a silicon mold, ignoring my dislike of this kind of baking molds. And the mold was delivered just in time, so the only thing I had to was to refresh my sweet starter and start baking.
Raisins and candid orange peel would make my beloved one rather unhappy, so I choose semisweet chocolate drops and chopped candid almonds instead. The fits well with my first colomba memory, when some years ago a former colleague brought back a big, chocolate filled colomba after visiting her parents in Italy. The dough for the dove is similar to my pandoro recipe, but this time I kneaded the butter into the dough. The dough was easy in handling and after baking I was able to unmold the colomba without any problems, much to my relief.
After cooling down we cut the dove and the first bite of it was pure delight. The crumb could be torn into long strands and was as light as a feather, and the combination of chocolate and candied almonds is great, too! This colomba is a real dream dove!
Colomba pasquale
yields a big colomba
First dough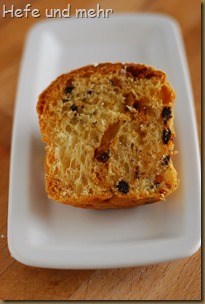 100g flour Type 550
35g Water
60g Egg
25g sugar
150g Sweet Starter,  4 hours after the last feeding
Second dough
60 g flour Type 550
25 g Egg
12 g sugar
3 g soft Butter
all of the first dough
dough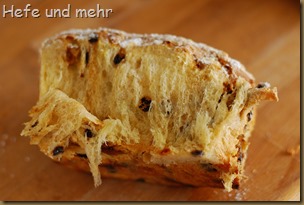 all of the second dough
250g flour Type 550
5g Salt
seeds of 1/2 vanilla bean
180g Butter
160g Egg
90g sugar
150g semisweet chocolate drops
150g chopped caramelized almond
Glazing
40g sugar
20g flour Type 550
30g Water
powdered sugar
First dough: Mix all ingredients to form a homogenous dough. Ferment for 2 hours at 30°C.
Second dough: Mix first dough with the other ingredients for the third dough and ferment it for 3 hours at 30°C.
Final dough:  In a stand mixer mix the second dough with flour, salt and 90g egg and knead for 5 min at slow speed. The dough is very stiff at this time.
Now add 30g sugar and mix on slow speed for one minute.
Add 20g egg and mix in slow speed for one minute.
Add 20g sugar and continue mixing for one minute.
Add now egg and sugar like before until all sugar and egg is incorporated.
Continue mixing on medium speed until full gluten development (about 9 min).
Now turn back to low speed and add in the butter. Knead until incooperated. Add last add semisweet chocolate drops and chopped caramelized almond work shortly into the dough.
Let rise for 3 hours.
Take two dough pieces of 185g each for the wings. Roll into short strands. Roll the remaining dough into another strand. The length of the strands should match the length of body and wings of your mold.
Place the strands in the greased mold and proof for 12 – 20 hours until it reach the top of the pan (Proofing time depends on room temperature and strength of the starter).
Prior to baking mix sugar, water and flour to a paste and brush the surface of the colomba with it. Dust thickly with powdered sugar.
Bake at 160°C for 50 min with steam.
Tips
For weighting the eggs mix 5 eggs in the beginning and then weighting the amount of eggs needed from this mixture
I bought a Silikon Colomba Mold because I did not find any paper molds.
To speed up the final proof, you can put the Colomba to 26°C (for example your oven, with lights turned on)
I sent this entry to Yeastspotting, Susans weekly showcase of yeast baked good.