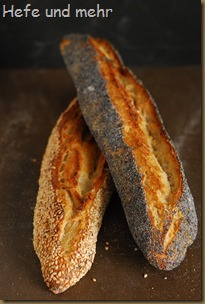 Another Idea I brought home from our holidays in Alsac is to cover a baguette with poppy seeds or sesame.  For the baking marathon last weekend I put the idea into practice and bake some Baguette au pavot (with poppy seeds) and Baguette au sesame (with sesame). After I formed the baguettes from my favourite dough with sweet starter (you can use this yeast dough Baguette, too) I wet their surface a little bit and turned them in sesame or poppy seeds. After proofing (according to the recipe) I slashed them lengthwise and baked them like written in the recipe,
The fragrance of the freshly baked baguettes were divine. And the taste were incredible, too.
This was not the last time baking these baguette variations!