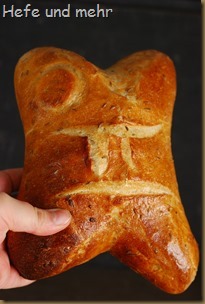 It is tradition in Attendorn, a small city in the Sauerland, that the pastor will issue a bless on the "Ostersemmel" (which means Easter bread) on Holy Saturday. It is a big event, that takes place in front of the church where the citizens of the Attendorn will hold their bread into the air. The Bread is forked on both ends, a shape that should depict the Christian symbol of a fish.
It is a bread made with rye, wheat and caraway seeds. My interpretation of the Ostersemmel is made with 30% Rye and Sourdough, and the recipe yields to breads. With a round cookie cutter I make an inprint for the eye, like I saw it in some pictures.
It is a perfect bread for caraway lovers like me, very aromatic with a soft crumb and a shiny crust.